The Outdoor Adventure Store may be closed,
ScoutShop.org still "open" during COVID-19
You can access the Scoutshop website here https://www.scoutshop.org/ to peruse all the National Supply Division has to offer. By ordering through us you avoid shipping costs. Items can be picked up at our shop located in the Exton Mall. 
Ordering Advancement during COVID-19
During this time that Scout Shops are closed and a leader needs to purchase advancement items, please use the following steps.
1.    Unit Leader will email in their Scoutbook Advancement Report to NDCSupply.Orders@scouting.org
2.    Please include contact phone number so that the Customer Service team member can contact for payment information.
3.    Customer Service Rep will contact Unit Leader for credit card information, ship to and bill to address, and verify the correct Council along with the actual advancement needed.
LOCATION:
226 Exton Square Mall
Exton, PA 19341
Located next to the childrens' play area
on the second floor.
HOURS:
Monday – Saturday: 10 AM – 7 PM
Sundays & Major Holidays: CLOSED
PHONE:
(610) 696-2900
The Outdoor Adventure Store is the one stop shop for all your Scouting needs. Whether you are looking for a complete Class A uniform, or preparing for camp, we have what you need. Stop in and check out our line of Klymit Sleep Pads and ENO Hammocks, great additions for your next camping adventure. 
The Outdoor Adventure Store of Chester County Council carries advancement supplies, books, uniforms and other resources such as supplies for derbies and Eagle ceremonies. Our Store has all the basic Scouting supplies and we are happy to order any National Supply Division items not normally stocked for you, they are generally available for pickup within 7-10 days. 
Don't have time to sew? Let us do it for you, we sew all patches and hem pants!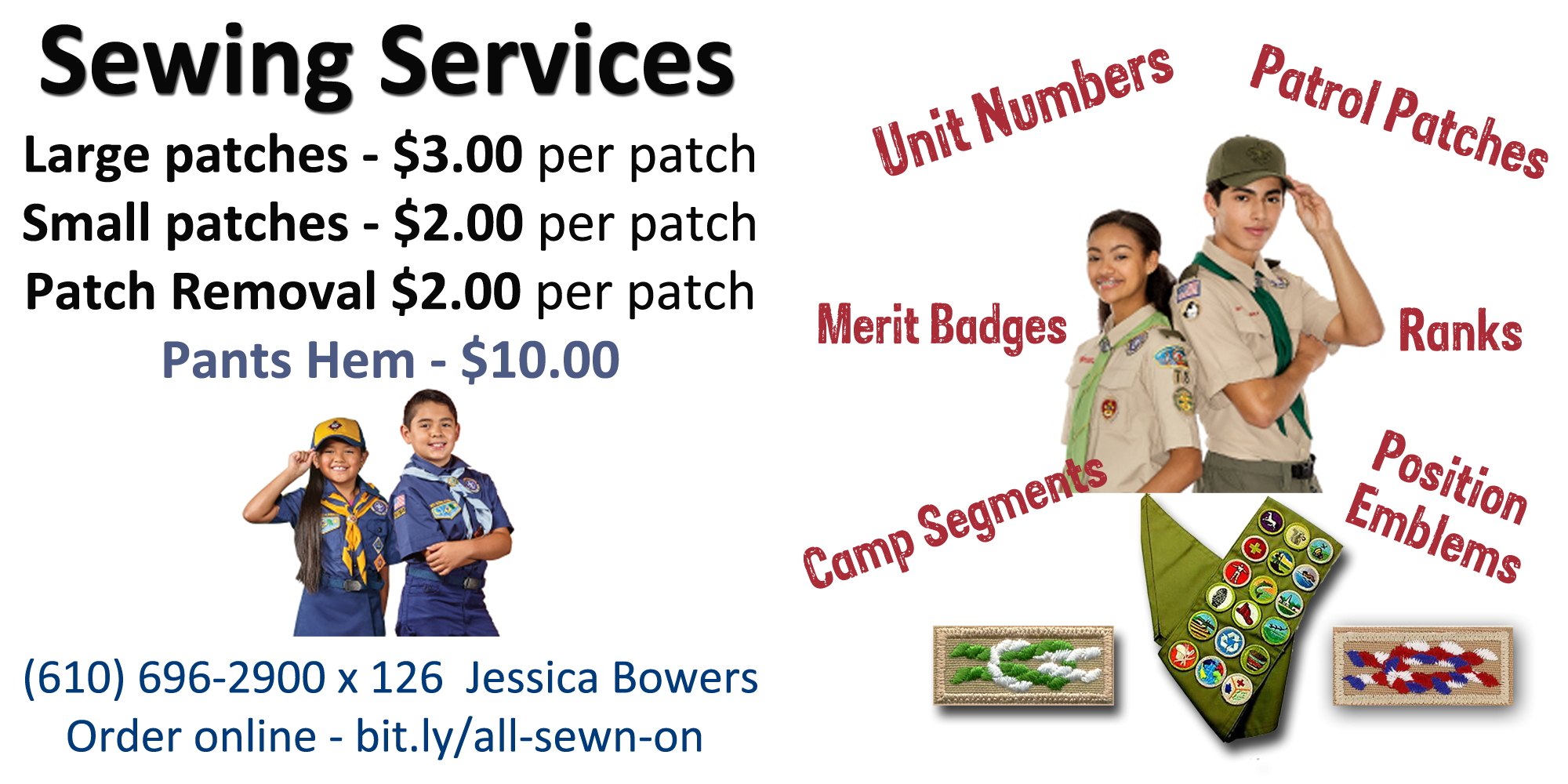 Gift cards are now available for all sewing services! 
They make great gifts for birthdays, Courts of Honor, Blue and Gold ceremonies and more.