The Eagle Scout Award is the highest rank a youth can achieve in Scouting.
A youth who has earned the Eagle rank will have all of the fundamental outdoor skills and be proficient in camping, hiking, cooking and first aid. They will have earned at least 21 merit badges that symbolize knowledge and achievement. They will also have held leadership positions and participated in numerous community service projects, one of which they personally planned and directed. More importantly, the lessons of discipline, character and service learned in earning this highest honor will last a lifetime.
A fellowship of individuals who have achieved the Eagle Scout rank and who desire to use their efforts and influence toward forming the kind of young people America needs for leadership. The objective of NESA is "to serve Eagle Scout and, through them, the entire movement of Scouting."
Eagle Scout Search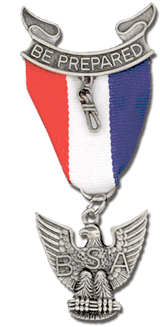 Eagle Scouts missing! And you can help us find them. The Chester County Council, BSA, is trying to find any Eagle Scouts residing in our Council service area. Our goal is to help these gentlemen renew friendships with other Eagle Scouts and solicit their help with Scouting projects and activities. If you or someone you know earned the Eagle Scout badge anywhere in the country, who resides in our Council, please encourage them to RECONNECT with us.
Once Eagles have been identified the next goal is to form an Eagle Scout Association in the Chester County Council, BSA. The purpose of the Eagle Scout Association is to provide all Eagle Scouts with an information link to the Council, to develop ways by which Eagle Scouts may serve to enhance the delivery of Scouting to the youth of Chester County, and reestablish a Chester County Council Annual Eagle Scout Recognition Banquet.
The organization is to be made up of Eagle Scouts, registered and non-registered, residing within or about the Council Service area of Chester County and Northern Cecil County, Maryland. Eagle Scouts working and/or living in the community are requested to RECONNECT with us. In addition, leaders of Cub Scout, Boy Scout, and Venturing units are asked to submit similar information for youth and adult leaders who are Eagle Scouts in their respective units.