With over 50+ merit badge choices, a stellar first-year program, computer lab, STEM offerings, a multitude of SIP's as well as older-Scout program opportunities including COPE, mountain biking and Independent Merit Badge Studies, Camp Horseshoe has something for every Scout. 
2022 Camp Dates
Week 1: June 26-July 2

Week 2: July 3-July 9

Week 3: July 10-July 16

Week 4: July 17-July 23

Week 5: July 24-July 30

Week 6: July 31-August 6

Week 7: August 7-August13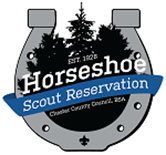 2022 Camp Fees
$450 if paid on or before April 15, 2022

$495 if paid after April 15, 2022

$250 per Adult Camper for each 8 Scouts. Additional adults $300

Please pay for confirmed attending adults along with Scouts for planning purposes and to assist with overall expenses.

Fees for Scouts are ALL-INCLUSIVE. There are no additional fees for merit badge program.