With over 50+ merit badge choices, a stellar first-year program, computer lab, STEM offerings, a multitude of SIP's as well as older-Scout program opportunities including COPE, mountain biking and Independent Merit Badge Studies, Camp Horseshoe has something for every Scout. 
New Camp Director: Stuart Watson
Stuart Watson has been selected to serve as the 2023 Camp Director of Camp Horseshoe. Stuart brings a wealth of information about Scouting and Camp Horseshoe to this role. In 2022, Stuart served as the Shooting Sports Director. 
As Camp Directors transition, we will have some delay in the publication of the Leaders and Program guides.
Specific questions can be directed to [email protected]
2023 Camp Dates
Week 1: June 25-July 1

Week 2: July 2-July 8

Week 3: July 11-July 15

Week 4: July 16-July 22

Week 5: July 23-July 29

Week 6: July 30-August 5

Week 7: August 6-August 12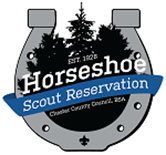 2023 Camp Fees
$495 if paid on or before April 15, 2023

$575 if paid after April 15, 2023

$275 per Adult Camper for each 8 Scouts. Additional adults $330

Please pay for confirmed attending adults along with Scouts for planning purposes and to assist with overall expenses.

Fees for Scouts are ALL-INCLUSIVE. There are no additional fees for merit badge program.