Chester County Council's Camp Horseshoe offers one of the last seven day traditional Scouts BSA summer resident camp programs in the country.  With over 40+ merit badge choices, a stellar first-year program, computer lab, STEM offerings, a multitude of SIP's as well as older-Scout program opportunities including COPE, mountain biking and Independent Merit Badge Studies, Camp Horseshoe has something for every Scout.  For additional information reference our program and leader's guides for more details.  
Call 610-696-2900 x125 or email camping@cccbsa.org for more information or to reserve your space!
Scouts BSA Provisional-Independent camping provides an exceptional opportunity for the Scout unable to attend with his troop or wishes to attend additional weeks – perhaps to get those Eagle required merit badges completed!  Offered every week of the summer, your Scout is placed with a host troop specifically chosen to ensure he will get the most from his week at camp.   Click here for an application.
We can't wait to be your home-away-from-home for a week this coming summer!  
2020 Camp Dates
Week 1: June 21 - June 28

Week 2: June 28 - July 5

Week 3: July 5 - July 12

Week 4: July 12 - July 19

Week 5: July 19 - July 26

Week 6: July 26 - August 2

Week 7: August 2 - August 9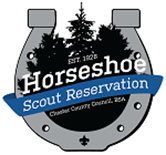 2020 Camp Fees
$475 if paid after May 15, 2020

$475 if paid after May 15, 2020

$225 per Adult Camper

Please pay for confirmed attending adults along with Scouts for planning purposes and to assist with overall expenses.

Families with more than one Scout attending camp with the troop pays the entire fee for Scout one; the entire fee less $50 for each additional Scout.

Fees for Scouts are ALL-INCLUSIVE. There are no additional fees for merit badge program.