The 3 Ds (Desire, Dedication, Determination)
Lynn Watson, MS
Scout wife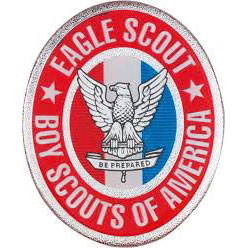 There are many reasons one may want to become an Eagle Scout. One reason could be a family history in Scouting. But, over the years, this author has seen the three Ds play out, as reasons one may become an Eagle Scout.
The first is Desire. The desire to gain leadership skills. The individual may want to become a leader in their community, their school, or with their friends. A Scout often feels the resolve to achieve a goal they set out for themselves.
The Eagle Scout embodies the twelve characteristics of being a Scout (Trustworthy, Loyal, Helpful, Friendly, Courteous, Kind, Obedient, Cheerful, Thrifty, Brave, Clean, and Reverent).
A Scout desires, and frankly needs, support from others. Whether that support comes from family, friends, peers, or their community. A successful Eagle Scout will almost always note they were able to achieve the Eagle Scout due to the support they received.
The second reason for becoming an Eagle Scout is Dedication. Scouts, wishing to become an Eagle Scout, need to be dedicated to a project. They need to identify a project that means something to them and stick with it until completion.
Part of dedication is accountability. The Scout must be prepared to devote the time and effort it takes to work on their project.  The Scout needs to network with, and lead, others, who can assist them in achieving this goal of project completion. The need to realize that it is perfectly acceptable to request assistance in completing their identified project.
Leadership is another aspect of dedication. Over a year of leadership in the Scout unit is required to achieve Eagle Scout.
Scouting creates great leaders by placing teenagers in positions with real responsibility and genuine consequences. Unlike a managerial role at the office, leadership positions in Scouting have a safety net. You won't get fired if you mess up as senior patrol leader, but you will learn a lesson for life.
What makes a great leader? A great leader is a role model, a good person, a servant leader, a good observer, and a humble person.  In addition, a good leader is trusted. Trust is earned. Leading by example sets the tone for a successful Eagle Scout. Show by doing. Do not just talk the talk. Walk the walk. One who leads with confidence and follows with humility, is one who will likely achieve Eagle Scout.
As part of the Service requirement for achieving Eagle Scout, Citizenship in the Community, Citizenship in the Nation, Citizenship in Society, and Citizenship in the World, are all part of the merit badge requirement for the Eagle Scout. Being a solid citizen, and representing the Scouting community, bodes well for achieving Eagle Scout.  Whether one provides service to their local Veterans Affairs Medical Center, church, or township or city community, the service needs to mean something to this Scout. The Scout needs to be fully engaged and inspired for the service they are providing.
The third reason is Determination. The Scout needs to be determined. They need to be motivated to achieve their project goals. They understand they will need to modify their project plan, as necessary, yet they stay on track to finish the project.
The Scout needs to stay resilient against any barriers, or obstacles, that are presented to them.  Once their achievement of being recognized as an Eagle Scout has been completed, I have observed the sense of pride is evident on their faces and in their future actions.
Quotes from those who have attained the rank of Eagle Scout, a mother of an Eagle Scout, and a wife of an Eagle Scout, illustrate how the three Ds shape the trail to Eagle.
"For me, becoming an Eagle Scout was a testament to persevering over the challenges that we face growing up, and working hard to achieve the goals we've set for ourselves.  This sheer grit and determination may not seem like a lot when you're in college, or in your early career, but inevitably, everyone faces challenges in life, and the lessons of overcoming the random roadblocks along the way in Scouting reinforces that determination to finish the job and move forward towards achievement in our adult lives and careers. The trail to Eagle is long, with a lot of steps and challenges along the way.  Some may say that it's just a series of requirements that you have to meet, do some stuff and it's yours.  Yet, when approximately 4% of youth who join Scouting are the ones to attain the rank of Eagle, it comes across as much more than that, 96% of their peers didn't see it through, they couldn't or wouldn't overcome those challenges to keep climbing on that Eagle trail." Matt Griffin, VP of Program, Chester County Council Boy Scouts of America. Eagle Scout since 1996.
"The Trail to Eagle is not about the project, the merit badges, or the skills. Rather, the lessons, truths, and memories gained along the way give Eagle Scouts the persona that is valued very highly in society. To me, being an Eagle Scout means being prepared to tackle any moral, mental, or physical challenges that may manifest, with confidence knowing what I have been able to accomplish before." Bevan Watson, Eagle Scout since 2019.
"The Scouts BSA program is nothing short of the premier leadership development program available to American youth. It is an opportunity like no other in our society. The symbolic peak of this opportunity is our highest rank, Eagle Scout. Eagle Scout is not about the badge you wear on your breast pocket. Rather, it is the symbol of the opportunities before you. The opportunity to give back. To help and to guide. The strength of our scouting program is directly dependent on the strength of its leadership. That starts with each and every Eagle Scout. As you transition from scouts to adulthood, you will begin to see the true reward of this honor and the value of this program. As an Eagle Scout you will be exposed to opportunities that you could have never imagined. The skills learned in this program, on the path to Eagle, will open doors for the rest of your life." Nathan Motel, Eagle Scout since 2017.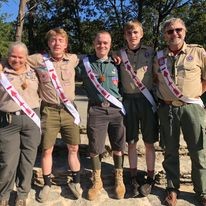 "I have three Eagle Scouts. I know that it fills me with pride, when I share about my Scouting experiences. I feel as a parent that Scouting gave my sons tools to tackle life with an advantage most youth don't get outside of Scouting. They will carry those with them through life. What mom wouldn't want that for any of their children? Being a mom of an Eagle Scout makes me feel like I did the best for them, to help them succeed as a productive and respectful member of society. It's been five years since my youngest son earned his Eagle and I still stay involved because I know in my heart what a great program Scouting is and what it offers youth." Sherry Seace, mother to three Eagle Scouts.
And finally, my thoughts, as the wife of an Eagle Scout. "The look of pride, and feeling of accomplishment, expressed by my husband, when working for the Scouts, shows me just how much being an Eagle Scout means to him."
Find out more about Scouting in Chester County, or register for our Eagle Scout & Council Recognition dinner visit www.scoutingevent.com/539-2022Recognition or contact [email protected]